Once again this year, I discovered two of my favorite events were scheduled in conflict: my Patroon Chapter's August track outing at Lime Rock Park, and NER's Night Race @ Thompson Speedway Motorsports Park. I skipped the night racing last year and chose to do a track day, but with my car "in the shop" and getting some much needed attention, I decided to sign up for the flagging opportunity at Thompson.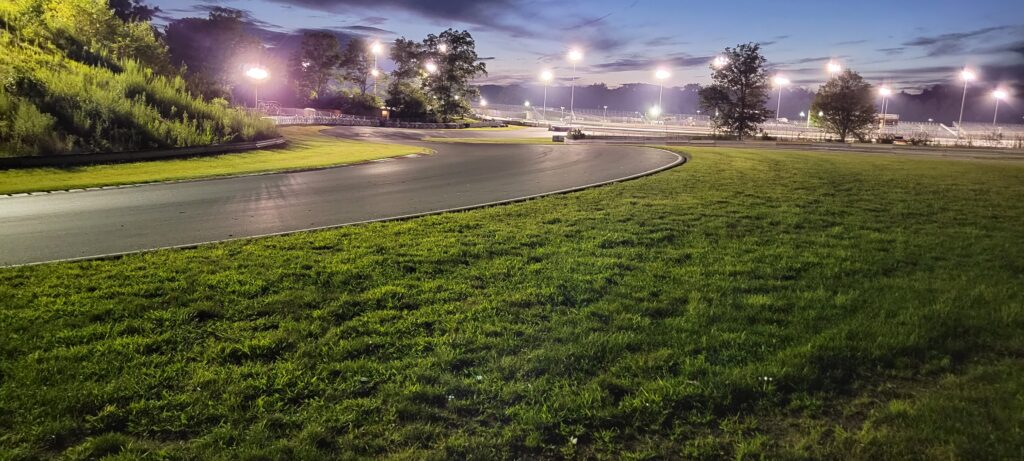 I'm used to flagging at night; I've done it several times as part of the IMSA 12 Hours of Sebring event. It's fun, challenging, and ultimately exhausting. However, I was curious to see how an SCCA region would do things, and rather than have high budget professional race rigs screaming around a course, I was intrigued to see how some low budget amateur racers would do it.
Most interesting aspect of this is racers were NOT allowed to use their headlights. Well, if I understood the rules correctly, they could use their headlights, as long as they were covered and only gave off enough lumens to simulate a running marker. In other words, you can see the light, but the light can't be strong enough to illuminate anything. Some cars had some very trick LED strip lights to mark their front corners – those cars that normally would not have any operative lights in their class, for example. Others simply ran their running/parking lights. And interestingly enough, some chose to forgo any lights, at least on the front. Aside: everyone was required to have a functional rear lamp, be it a rain light on formula cars, or tail/brake lights on closed wheel cars, but even their brightness was subject to light output limits.
The track itself was pretty well lighted, with a bunch of portable lights stationed around the track. Unfortunately at our flag station, we had lights stationed across track from us and up on a hill, so racers could see us and our flags (a very important feature), but we didn't have the advantage of any lighting on cars from our side of the track that would help us see their numbers, classing, or sometimes even their color. Fortunately for us we had no incidents in our section during the night time portion of the event, so it didn't impede our calls. Blue flagging was a huge challenge under the circumstances.
I liked the later-than-normal start to the event, allowing me to get up a little later and take my time getting to the track, but the finish of the event at about 11:30pm was the latest I've ever flagged. It kind of underscored my lack of enthusiasm for ever flagging at the Daytona 24 event. The racers who attended seemed to love it, so I'd come back and work it again if I have the chance.
Next event on my calendar, an autocross in September to close out my driving season, and then flagging at the SCCA Runoffs @ Indy Motor Speedway in September/October….