While house / dog / mom sitting, I had some time to get serious about track car shopping. Using Cars.com and AutoTrader, I zeroed in on some specific models of certain years and mileage. For a few days I'd watch the cars and the prices of them, and comparing the offerings to what values NADA.com said were reasonable, I started to narrow down the choices to a select few cars scatter around the US, mostly east of the Mississippi. When the dust cleared, and some of the vehicles disappeared while I was debating, I jumped on this beauty…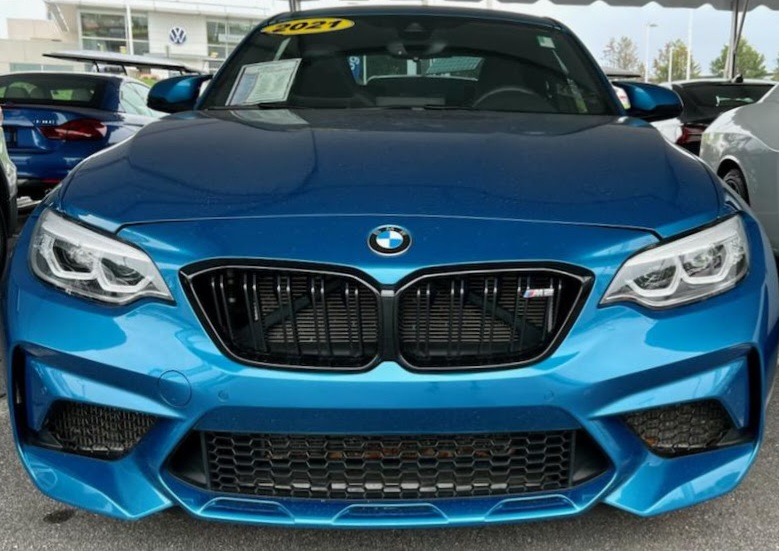 Cars.com was a pretty slick operation. You can really target your search to narrow in on specific details of cars offered in whatever range from you decide on – years, mileage, transmission, price range. After talking with a Civic Type R owner about the amount of modifications needed to make it track-worthy (mostly from a heat dissipation standpoint), and having had a similar discussion with an M2 Competition owner, I decided the M2 Competition was the better choice. Was it pricier than the CTR? Sure it was. However, if you look at the value of available cars in relation to MSRP, the M2C was a far better value.
I narrowed my search down to three specific examples of the M2C: a white '21 at a Nissan dealership in Cincinnati, a blue '21 at an Audi dealership in Greenville SC, and a red '21 at an independent dealer in NYC. I was leaning towards the white one as it seemed to represent the best value, but when I sent the listings to my wife, she said she preferred blue, so who was I to argue? Shortly thereafter, the white one was taken off the site, so I figured I needed to move NOW on the blue one before it was snapped up.
As I discussed the car with a salesperson at the dealership, I learned the cosmetic damage incident revealed in the Carfax report was contact with a deer in the suburbs of Atlanta. The Audi dealership had recently replaced the rear tires as part of their sales prep, which gave me a bit of assurance that the frame isn't suffering from any issues. This, and the mileage (~36k), made it a very affordable choice. Similar M2Cs that had mileage under 10k on them and a clean Carfax were commanding a premium of $4k-$7k above what I paid, so I was happy to get a discount for a minor incident and some miles.
Flying down to Greenville later this week to pick it up and drive it home to Albany. Just hoping the weather cooperates with my flight, and the drive, so it doesn't make a long trip any longer than it has to be.