As my summer progressed, I started to face some hard truths with owning a BMW: it's incredibly expensive to own a BMW, and an M2 Competition that needs to be prepped for a dual life on the track and the street ramps those costs up further.
The main problem with the M2 Competition was it was a dual edged sword: you get the better S55 engine as opposed to the M2's N55 engine, but you also get massive rotors that require 19″ wheels and tires. Those 19″ wheels don't have a lot of good choices for trackable performance rubber, and the choices that are out there run you around $1600 for a set of 4 tires.
Most owners who want to regularly track an M2 Competition look at changing two things: putting a smaller brake kit on the car, which enables you to drop down to 18″ wheels, in turn putting you in reach of a better, and cheaper, range of performance rubber, and allowing you to change the 245/265 width stock tire setup to a square setup of 265 or wider at all four corners so that you can rotate all the tires to extend the life of those tires.
My research came up with a projected cost of nearly $14,000 to get to that promised land:
Front brake kit – $5100. Rear brake kit – $5000. A set of 18″ wheels – between $1800 to $3000. Didn't even include the cost of the first set of 18″ tires, and I was already shaking my head. Add in some issues I was experiencing with my choice of camber plates and an undiagnosed creaking in the struts/steering that had a $1000 unsuccessful attempt at fixing, I decided to stop throwing good money after bad.
Saw not one, but two Civic Type Rs come up for sale at a local Honda dealer, and decided I was going to move on from the M2 Comp. As soon as I committed to that plan in my mind, I literally felt a weight lifted from my shoulders.
The process of acquiring the Civic Type R was a money risking process in itself. It required me to grit my teeth and do some things I swore I'd never do; i.e. pay above MSRP for a vehicle, and trade a car in rather than attempt to private sale it. I decided to trade it in as the steering creak would have made selling it at a reasonable price very difficult to do. The dealer I bought the car from has Honda, Mercedes, and BMW dealerships on the same lot, so I figured they'd be able to put the stock camber plates back on the car for a low cost.
I wasn't sure the dealership was going to charge a markup on the CTR as they never listed it on their website – they simply showed the car at the MSRP. Most marked up cars typically will have a "call for price" added to their listing or similar, so I naively hoped that there was no markup involved.
I scheduled an appointment to look at the CTR. No test driving, but they did let me sit in the car as they knew I was a serious buyer (hell, I was dangling a decent '21 BMW M2 with a higher MSRP as a trade-in). The car felt good, and I relied on my experience of having test driven a '19 CTR previously to assume this car would drive as nicely as that FK8 platform did. The dealership was pretty protective of the two CTRs on the showroom floor – both cars were kept locked unless someone was specifically interested in buying it. As soon as we stepped back out of the car, it apparently was locked again, as while we were negotiating terms and the salesman went to check with a manager on my offer, I tried to open the car to look at the interior further, and it was locked.
This was the first car negotiation I've ever used the F-bomb in. When I asked about the MSRP being the purchase price, the salesman conceded that there was a markup, and I was… not impressed with that answer. They initially said they were looking for $15,000 over MSRP, and when I laughed out loud the salesman quickly conceded that they would negotiate some from that. I scoffed at paying even half that amount over MSRP, and then the salesman seemed to again quickly offer that the pricing was negotiable. I offered what I thought would get me in the ballpark – yeah, I blinked rather than try to swing for the fences and give them a lowball offer. I also really wanted to inform my wife of what I was doing – she knew I was going to discuss the car – but I wanted to let her know things were moving quick. Couldn't reach her, so I decided to lean on "well, I tried" and moved ahead. The salesguy didn't scoff at my counteroffer, and while I took the picture above, waited for approval of my offer. Salesman came back and offered a handshake, and that was that. I was offered the chance to drive it home that day, but decided to hold off for a few days so I could remove some go-fast parts from the M2 and extract a few bucks of my investment in the parts I had purchased it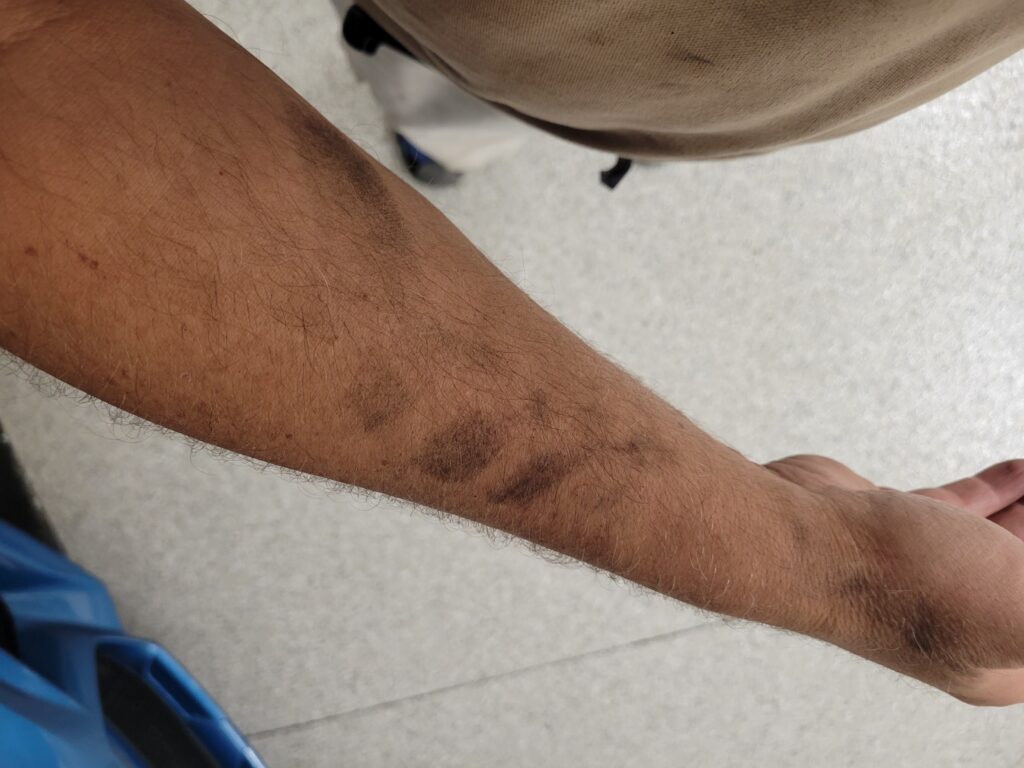 For purchasing a high-priced car, this was one of the most informal and sloppy dealer experiences I've ever had. I needed to hand over some cash to seal the deal, and asked if I could put a down payment on my credit card. "Sure, but we can't put the whole amount on there." I knew that as it is a typical rule at any dealership. Finance manager comes over, I sign some papers, hand him my credit card to do the down payment, and wait. He comes back, hands me my card, and tells me the entire purchase price was put on my card. I was secretly thrilled as this would a) allow me to skip hitting the bank for a certified check, and b) I'd get some pretty decent rewards back on my card from a solid five figure transaction as this. However, my honest made me speak up and point out the error that was made. The finance manager thought about it quick, and then shrugged and said "That's ok, we'll let it stand." Awesome. Well, there was one small win for me.
The day I showed up to pick up the car and leave my M2 Comp with them, it was all a blur. I had a list of paperwork shoved in front of me to sign, with brief explanations of each form that, on the surface, sounded reasonable. The salesman asked if I needed to be walked through anything on the car, which I really didn't but verified if I had questions, I could call them to ask. I then took a quick trip to see the business manager, who supposedly shares an affinity for taking cars to the track like me. We walk in and the business manager doesn't introduce himself, but instead asks if I recognize him. I apologize, but I don't. He then says he's friends with the chief instructor at CT Valley BMW, but that most folks recognize him by his car, gesturing to a calendar on his office wall of a generic BMW sedan that I also didn't recognize. I offered I knew the chief instructor friend of his, but unfortunately didn't recognize him. He seemed a bit offended or disappointed in that, and then moved on with the paperwork. One of the oddest interactions I've had with someone I literally had not previously. He didn't indicate whether he recognize me or not, that I heard.
Back out to the showroom floor, I was given a handshake by the salesguy, and I went out to the parking lot where my Boost Blue Pearl FL5 Civic Type R was waiting. No tour of the dealership, or showing me where the service desk or parts desk was. It was pretty lazy and disappointing as a customer, making it seem like the dealership wasn't too concerned with the niceties that most dealerships perform for their customers. Later on, one evening I ast and read through all the paperwork I had signed at the dealership. I found two add-on items totaling $1000 of additional cost that I never would have agreed to if I had understood what it was. One was an $800 Armor All ceramic coating with a 7 year guarantee. How one would determine that your ceramic coating has failed and what specifically the guarantee covers are still cloudy to me. That item was only explained to me as I had "an $800 credit" I needed to use if I stuck with my decision that I didn't need the car ceramic coated. We argued back and forth about what it really represented, but it was honestly explained that I was charged $800 as part of the purchase for this bogus service. It was always explained as a credit I was owed that could be used on ceramic coating, an extended warranty, wheel & tire warranty, fabric treatment, etc – all that stuff of dubious utility and value, but had to be part of the deal. What was never mentioned during the explanation of each paper I signed was a $199 charge for an insurance policy that covers the markup value of the car if it is stolen in the first four years of my ownership. Interesting, but again, it simply adds more money to the dealership's bottom line rather than represent any real value to the customer. Cheap, scheming, low-rent business practices in my opinons. But hey, as I was reminded several times during the sale, Honda may send me a customer satisfaction survey, and unless I can give them only 10s to discuss it with them first. Sorry, I'm going to rate you what you should be rated, and it wouldn't be 10s. I'm praying I do get that survey.